Greetings from the representative
Welcome to the homepage of NS International Corporation

Delivering smiles and happiness through sweets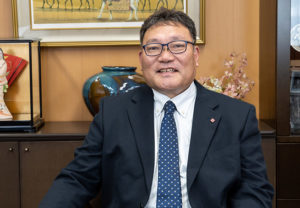 We established NS International Corporation in June 2002 with the desire to deliver overseas sweets to Japanese consumers with high quality and low prices.
Recently, the number of cases where retailers discover overseas products themselves is increasing, but the cost of quality inspection and purchasing, quality assurance for import, taste, flavor, packaging for Japanese people, etc. become a barrier, and the number of requests to our company is increasing.
In terms of price, we are working to reduce the price, aiming for half the of national brands. This is one of our strengths that is possible because we have distribution synergies with the NS Group, which has a network of 13 confectionery wholesalers nationwide.
From a more global perspective, we will work on trilateral trade that will serve as a bridge for transactions between other countries, and at the same time, we will demonstrate our planning capabilities such as special event products (limited-time products) and Valentine's / summer limited products to retailers. Through support to retailers, we will create a new confectionery culture.
We look forward to your continued support and cooperation.
President and CEO Haruo Sato